About
ABOUT DRY CREEK CONSERVANCY
MISSION – TO SUSTAIN A DURABLE ORGANIZATION THAT COLLABORATES WITH COMMUNITIES TO MAXIMIZE LIVABILITY BY PROMOTING HEALTHY CREEKS AND WATERSHEDS.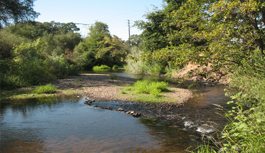 DCC is a collaborative engine for healthy natural systems in our communities with a focus on watersheds.
• We promote vibrant communities by – Expanding understanding of our natural world
•Facilitating collaboration of government, non government organizations, and citizens on watershed projects
• We have a restorative mindset, are action oriented, and fill unmet needs.
• We organize projects and processes such as native plantings, salmon barrier removal, and monthly collaborative meetings that provide the community with opportunities to come together as partners.
• DCC is a first choice of local government when they need a nonprofit partner for resource projects and resource outreach and is a valued partner in all stakeholder processes.
HISTORY
Formed to promote the Dry Creek Greenway.
In 1995 the Dry Creek Parkway Citizens Advisory Committee (later incorporated as Dry Creek Conservancy) published the Dry Creek Parkway Concept Plan to develop "a continuous and
coordinated system of preserved lands with a connecting corridor of walking, equestrian, and bicycle trails encompassing the Dry Creek watershed from the Sacramento County border west of Roseville to the creek's sources." With the help of Trust for Public Land (TPL) and National Park Service Rivers, Trails, and Conservation Assistance Program (NPS RTCA) the Citizens Committee brought together more than 50 citizens, officials, and agency staff to discuss the Dry Creek Parkway concept. A major recommendation from the meeting was to form a nonprofit advocacy organization to champion the Parkway.
Expanded to include resource management in the American Basin.
In 1996 the Citizen's Committee merged with Friends of the Roseville Parkway and incorporated as Dry Creek Conservancy (DCC), a nonprofit charitable organization. Also in 1996 DCC formed the Dry Creek Coordinated Management and Planning group (CRMP), a collaborative for watershed stakeholders to meet in a voluntary and cooperative commitment to improve resource management and maximize collaboration among landowners, land users, recreational users, government agencies, and conservation groups. Similar groups were formed for the nearby watersheds of Pleasant Grove/Curry Creek and Auburn Ravine/Coon Creek, and in 2005 the three groups agreed to consolidate to form the American Basin Council of Watersheds (ABCW) facilitated by Dry Creek Conservancy, and which continues to meet monthly. Parallel to the consolidation of the watershed groups DCC amended its mission to include the small watersheds between the American River and Bear River in Placer, Sacramento, and Placer Counties (the American Basin).
The areas of west Placer and north Sacramento have been rapidly urbanizing for 15 to 20 years. Despite this the watersheds have retained many natural system values that contribute to the quality of life of residents by providing natural services and relief from city life. The watersheds have semi-rural areas in Rio Linda and Elverta in North Sacramento County and in areas of West Placer County. Since 1996 DCC has generated increasing support for protecting and restoring the watersheds. Grants received by DCC and its partners have led to management plans for Secret Ravine, The Dry Creek Watershed, Auburn Ravine/Coon Creek, the City of Roseville Riparian areas, and the Dry Creek Greenway. Habitat improvement projects have been completed on all major tributaries. DCC has started a number of projects that the community expects and embraced such as the annual fall salmon spawning survey, the annual Creek Week event in April, Fall festival, monthly meetings of the American Basin Council of Watersheds, and the biennial Low impact Development Conferences. Our activities have been largely grant funded in partnership with local government and other organizations. Community events are funded by local business, government, and other organizations. Volunteers have provided consistent support of programs over time.